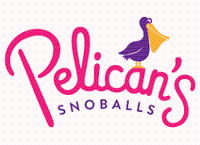 Fayetteville, Georgia
When kids dream big, dreams become reality! Back in 2001, Ansley Johnson, a 13-year-old North Carolina girl had fallen in love with her summer visits to her grandparents\' home in Louisiana. It was there that she spread the word about the refreshing and delicious snowballs on hot, summer days and the rest was history!
PELICAN\'S SNOWBALLS (named by Ansley after the Louisiana state bird) got off the ground running and became one of the fastest growing quick-serve dessert franchises in the US. In 2017, the Johnson family sold the franchise to present owners Gregg Fattool and Randall Wright. They\'re opening a new location in Fayetteville, GA soon, increasing from 189 to 208 units (10% growth) since April. They offer catering and colorful seating is for about 30.
Locations trade in AL, CA, FL, GA, KY, LA, MA, MS, NJ, NY, NC, OH, PA, SC, TN, TX and VA.