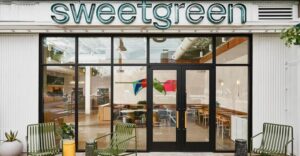 SAN DIEGO, CALIFORNIA 
Culver City, CA-based SWEETGREEN (founded 2007) has opened a new location in San Diego, CA in July growing to 216 units and counting.
These fast/casual salad shops serve lunch and dinner with a $6-$15+ per person check average. Seating is for around 20. Locations trade in CA, CO, DC, FL, GA, IL, MA, MD, NY, PA, TX and VA.