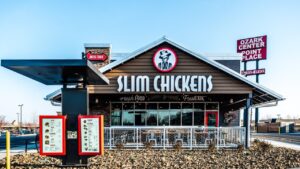 CONCORD, NORTH CAROLINA
Fayetteville, AR-based, SLIM CHICKENS (founded 2003) is opening a new location in Concord, NC growing to 188 units and counting.
These fast/casual chicken restaurants are open for lunch and dinner with a $4-$12+ per person check average. Seating is for around 90 patrons. Locations are franchised and trade in AL, AR, CO, FL, IL, INT'L, KS, KY, LA, MD, MO, MS, MT, ND, NE, NJ, OH, OK, SD, TN, TX and UT.