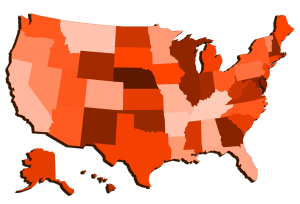 Contact us for pricing and samples for your areas.

Weekly averages:
850 New and different locations each week including;
80 new pizza locations.
70 new Mexican locations.
40 new coffee shops.
175 new multi-unit location openings.
675 new single-unit independent locations.
350 new locations that serve alcohol.
Weekly reports of new openings are typically issued by State(s) or region. Counts vary.
Some states or regions produce an average of 3 or 4 leads per week and others 25. Average number of leads per week, per region is 17. 

Regions:
Alabama

Albany

Arizona

Arkansas

Atlanta Austin-San Antonio-Corpus Christi

Bakersfield,CA

Baltimore/DC-NoVA

Bronx/Westchester

Brooklyn/Queens/Staten Island

Buffalo

Chicagoland-greater

Colorado-WY

Connecticut-Rhode Island

Dallas-Fort Worth Metroplex Metro

Fresno,CA

Houston/Galveston/Beaumont

Idaho

Indiana

Iowa

Jacksonville-Metro

Kansas City

Kentucky

Knoxville

Las Vegas-Metro

Long Island (Nassau & Suffolk)

Los Angeles

Louisiana

Manhattan

Massachusetts

Memphis

Michigan

Minnesota

Mississippi

Montana

Nashville

Nebraska

New Jersey

New Mexico

North Carolina

North Dakota

Oakland & East Bay

Ohio North-Cleveland/Akron/Toledo

Ohio South-Cincinnati/Dayton/Columbus

Oklahoma

Orange County, CA

Oregon

Orlando-Metro

Philadelphia-SoNJ-DE

Pittsburgh Metro

Reno, NV

Rochester/Syracuse/Binghamton

Sacramento-greater

San Bernardino/Riverside

San Diego County

San Francisco

San Jose-Monterey

Santa Barbara

South Carolina

South Dakota

South Florida- Broward/Dade/Palm Beach

Springfield St Louis-S Chicago

Tampa-St.Pete/Naples

Utah

Virginia

VT-NH-ME

Washington

West Virginia

Wisconsin
Weekly reports are also available segmented by service style, cuisine, county, city or zip code. Please contact us for fresh, free samples for your region(s). 
In addition we can create any custom report. Please contact us for more information and FREE sample reports for your areas.